Hi! Lee Hock here, and I know it has been a long long time since I last blogged.
Life has changed and stayed the same. We added a princess to our crew in 2015, she is now 20 months. Our newest little turkey-
I am still doing the things I love, being a mom, and of course COOKING! Life is busy, and I have not been blogging, but there has been so many times I have cooked good dinners and thought I need to blog this. One day when things aren't quite so crazy, I'll be back!
Well last night in the middle of the night the 3 boys came down at 2 AM for various reasons. As always, I had a hard time going back to sleep, thoughts were swirling in my head a million miles an hour. One of those thoughts was I need to do a Thanksgiving post. So here I am.
Here's lots of Thanksgiving ideas, recipes below the list:
Thanksgiving Baked Chicken
Cornbread Dressing
Cranberry Sauce
Jalapeno Cranberry Sauce
Salad
Green Bean Casserole
Roasted Winter Veggies
Sweet Potato Casserole
Pecan Pie
Pumpkin Pie
Apple Pie
Oreo Turkeys
Turkey Crudite
________________________________________________________
Thanksgiving Baked Chicken
If for any reason you are not up for making a whole turkey, this is so so so easy and soooooo good!
1 Chicken, cut into 8 pieces
Olive oil
Chef Paul Prudhomme's Magic Seasoning Blend Poultry Magic
Preheat the oven to 350 degrees. Place the chicken in a baking dish in a single layer, drizzle the top with a little bit of olive oil, sprinkle the top of the chicken with the Magic seasoning.
Bake uncovered for 1.5 hrs
_______________________________________________________________
Cornbread Dressing
This was a Thanksgiving staple at my grandparents house, I can't imagine having Thanksgiving without it.

1 cup chopped celery
1 cup chopped onion
1/4
cup (1/2 stick)stick margarine, fleishmans unsalted or earth balance
1 pan golden corn bread, recipe below
2 C. vegetable broth such as Imagine Brand
1
egg, beaten
1/4 teaspoon salt, or to taste
1/8 teaspoon pepper
Preheat oven to 350° F. In medium fry pan, melt the margarine, saute celery and onion until tender, about 5 minutes.
In large bowl, combine celery mixture with corn bread, broth, egg, poultry seasoning, salt and pepper. Toss lightly until bread is completely moistened. Place in well-greased or sprayed 1-1/2 quart casserole or 8-inch square baking dish. Cover with aluminum foil.Bake 30 minutes. Remove cover and continue baking 15 to 20 minutes longer or until golden on top
Golden Corn Bread- from the side of Aunt Jemima Brand Cornmeal Package, this is the recipe I always make
1 C. cornmeal
1 C. all purpose flour
2-4 T. sugar, depending on how sweet you like it
4 t. baking powder
1/2 t. salt
1 C. soy milk, I use plain unsweetened
1 egg
1/4 C. vegetable oil

Preheat oven to 425 degrees. Spray an 8 inch square baking dish with non stick spray.
Whisk together the cornmeal, flour, sugar, baking powder, and salt. Add the soy milk, egg, and oil. Mix until combined. Pour into the baking dish. Bake for 20-23 minutes, until done.
_____________________________________________________________________________
Cranberry Jalapeno Sauce

This is a great alternative to your standard cranberry sauce. It is so good on sandwiches too!

2 fresh jalapenos
1 (12 oz.) bag fresh cranberries, rinsed
1 C. sugar
1 C. water
Mince the jalapeno. For mild heat, discard the seeds, for medium heat leave the seeds in. Place the jalapenos, cranberries, sugar, and water in a small sauce pan, and put on the stove over medium high heat. Bring to a boil, and stir to dissolve the sugar. Lower the heat and simmer, uncovered for 10-15 minutes.
Remove from the heat, and cool to room temperature, store in the refrigerator until ready to serve. Can also be served warmed if desired.

____________________________________________________________________________
Cranberry Sauce
This is by far my favorite part of the Thanksgiving plate.
1 bag of fresh cranberries
1 C. sugar
1/2 C. water
1/2 C. orange juice
Place all of the above ingredients in a sauce pan. Bring to a boil until the cranberries start to pop, probably about 10 minutes. Remove from heat, and the sauce will thicken as it cools.
_____________________________________________________________________________
Thanksgiving Salad
This recipe is inspired by a salad our friends brought last friday.
1/2 cup white sugar
2 teaspoons minced onion
1/4 teaspoon paprika
1/4 cup white vinegar
1/4 cup cider vinegar
1/2 cup vegetable oil
2 tablespoons toasted sesame seeds- can buy already toasted, or toast at 350, until a little bit browned, must watch carefully so they don't get burnt
1 tablespoon poppy seeds
1 hearts of romaine, cut into small pieces
2 C. Baby bok choy
1 C. Napa Cabbage
1/2 cup dried cranberries (optional)
1 handful of Pomegranate seeds
Handful of Candied Pecans, Trader Joes has good ones
1 pear, peeled and diced, I would use an Asian Pear if you can, could also use apple
In a blender (can use immersion blender) Put sugar, onion, paprika, vinegars, and oil. Blend until emulsified. Stir in poppy seeds and sesame seeds.
In a large salad bowl, put lettuce, bok choy, cabbage, cranberries, pear, pomegranate seeds, candied pecans.Toss with dressing to coat. Serve immeadiately.
________________________________________________________________________________________
Sweet Potato Casserole

5 sweet potatoes, peeled and sliced
1/4 C. margarine
1/2 C. packed brown sugar
3 T. orange juice
1 pinch ground cinnamon
1 (10.5 ounce) package miniature marshmallows
Preheat oven to 350 degrees.
Place sweet potatoes in a large saucepan with enough water to cover. Bring to a boil, and cook until tender, about 15 minutes. Remove from heat, drain, and mash.
Place mashed sweet potatoes in large bowl, and use an electric mixer to blend with the margarine, brown sugar, orange juice, and cinnamon. Spread evenly into a 9x13 inch baking dish. Top with miniature marshmallows.
Bake for 25 to 30 minutes in the preheated oven, or until heated through, and marshmallows are puffed and golden brown.

_________________________________________________________________________________
Green Bean Casserole
Green bean casserole is a classic American recipe, and it is usually made with canned condensed mushroom soup, which isn't kosher. Here is the kosher parve version I created. Feel free to substitute the canned green beans with fresh steamed green beans.
1/2 small onion, finely chopped
8 ounces white mushrooms, sliced
1 1/2 T. flour
1 C. soymilk, unsweetened and unflavored, can also use non dairy creamer
1/2 t. garlic powder
1 pinch salt (more to taste)
1 pinch pepper
2 (14 1/2 ounce) cans French style green beans, drained or 1 1/2 lbs. fresh green beans steamed
1 C. French-fried onions

Melt margarine over medium heat. add onion and sauté until translucent. Add mushrooms and sauté until soft. Stir in flour. Cook for a few minutes, stirring constantly. Add the soy milk or non dairy creamer little by little, letting the flour-mushroom mixture absorb it. You should now have what looks similar to a creamy mushroom soup.

Remove from heat and mix in garlic, salt, pepper, and green beans (be sure and taste it to check the seasoning, you want it to be tasty). Place green beans in a greased 8 inch square baking dish. Pour over the mushroom mixture. Mix to combine a little bit. Top with French fried onions. Bake at 350 uncovered for 30 minutes, watch to make sure the onions on top don't burn
___________________________________________________________________________
Roasted Winter Veggies
This is Ina Garten's recipe with the addition of Brussels Sprouts.
1 pound carrots, peeled
1 pound parsnips, peeled
1 large sweet potato, peeled
1 small butternut squash, peeled and seeded (about 2 pounds)
3 tablespoons good olive oil
1 1/2 teaspoons kosher salt
2 C. brussels sprouts cut in half
Preheat the oven to 425 degrees F.
Cut the carrots, parsnips, sweet potato, and butternut squash in 1 to 1 1/4-inch cubes, add the cut brussels sprouts. All the vegetables will shrink while baking, so don't cut them too small.
Place all the cut vegetables in a single layer on 2 baking sheets. Drizzle them with olive oil, salt, and pepper. Toss well. Bake for 25 to 35 minutes, until all the vegetables are tender, turning once with a metal spatula.
__________________________________________________________________________
Mom's Secret Pecan Pie
My mom is famous for this recipe, it's super easy! This could easily be made gluten free if necessary, just use a gluten free pie crust.
2 T. margarine
1 C. sugar
1 C. dark corn syrup
1 t. vanilla
3 eggs
1 1/2 C. pecans
1 (9 inch) unbaked frozen pie crust, such as Mrs. Smith's
Preheat oven to 350 degrees.
Melt the margarine in a small sauce pan, remove from the heat and add the sugar, and corn syrup, stir until combined. Let cool for 10-15 minutes until cool enough to add the eggs without cooking them, add the vanilla and the eggs, stir until combined, then add the pecans. Pour this mixture into the frozen pie crust. Place on a baking sheet and put into the oven. Bake for 60 minutes until center reached 200 degrees. If the crust starts to brown too much, cover edges with foil.
________________________________________________________________________________
Pumpkin Pie in a Graham Cracker Crust
It is so easy to whip this up, for gluten free if you want to use a gluten free crust this will work well, I have even made it with no crust.
1 Graham Cracker Pie Crust
1 can (15 oz.) Pumpkin Puree, (not pumpkin pie filling)
3/4 C. sugar
1 t. cinnamon
1/4 t. ground ginger
1/8 t. nutmeg
1/2 t. salt
2 eggs
1 1/2 C. soy milk

Preheat the oven to 425 degrees.

In a large bowl using a whisk, mix together the pumpkin, sugar, cinnamon, ginger, nutmeg, salt, eggs, and soy milk until smooth. Pour the pumpkin mixture into the pie crust.

Bake for 15 minutes. Lower the heat to 350 degrees. Bake for another 40-50 minutes until when a knife inserted into the center comes out clean. Cool on the counter for 2 hours and serve immediately, or refrigerate until ready to serve.
______________________________________________________________________
Grandma Ople's Apple Pie
Grandma Ople is not my grandma. I found this recipe on allrecipes.com, it got an average of 5 stars by 3,825 people, which is unbelievable. This is no ordinary apple pie recipe.
1 recipe pastry for a 9 inch double crust pie, I used a store bought one
1/2 cup unsalted butter
3 tablespoons all-purpose flour
1/4 cup water
1/2 cup white sugar
1/2 cup packed brown sugar
8 Granny Smith apples - peeled, cored and sliced
Preheat oven to 425 degrees. Melt the butter in a saucepan. Stir in flour to form a paste. Add water, white sugar and brown sugar, and bring to a boil. Reduce temperature and let simmer.
Place the bottom crust in your pan. Fill with apples, mounded slightly. Cover with a lattice work crust. Gently pour the sugar and butter liquid over the crust. Pour slowly so that it does not run off.
Bake 15 minutes in the preheated oven. Reduce the temperature to 350 degrees. Continue baking for 35 to 45 minutes, until apples are soft.
________________________________________________________________________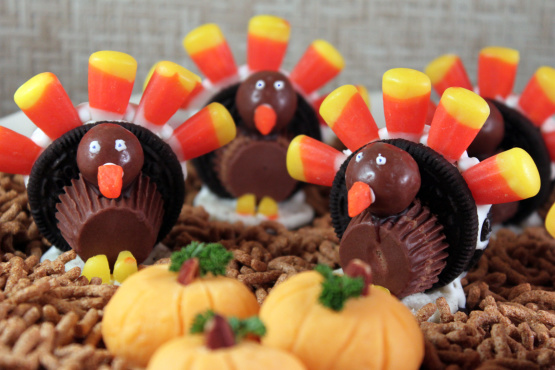 Oreo Turkeys
We have a tradition to make these every year, the kids love it! Jelly Belly makes kosher candy corns, you can usually find them in the Jelly Belly stand in the grocery store or at TJ Maxx. The picture above is missing the red part that hangs down under the beak.
24

Oreo Double Stuff cookies

12

miniature peanut butter cups

12

malted milk balls

1

cup candy corn

4

ounces chocolate frosting

4

ounces white frosting

red food coloring
Place one Oreo cookie as the base. Put one teaspoon of chocolate frosting on top.

Place one small peanut butter cup on it's side so that the top and bottom are perpendicular to the base -- and stuck in the frosting. Place a teaspoon of chocolate frosting on the top(widest part) of the p-butter cup.

For the second cookie. Stick some candy corn into the Oreo 'stuff' along one edge for the feathers -- pointy side down. They should fan out around the edge. If you have trouble doing this, you can help them stick with some white frosting.

Place this second Oreo cookie (the tail) on it's edge and sticking to a dab of brown frosting on the back of the peanut butter cup.

Place a dab of chocolate frosting on top of the peanut butter up (for the head). Place a malted milk ball on top for the head.

Take a small amount of the white frosting in a separate dish. Mix in red food coloring.

Use a toothpick with the white and red colors to place eyes, and wattle. You can pinch off the small pointy top of a candy corn and dip it in brown frosting for the beak.

______________________________________________________________________
Turkey Crudite
Straight from Pinterest and so cute! This is self explanatory.
__________________________________________________________________
Wishing everyone a Happy Thanksgiving!
Pin It